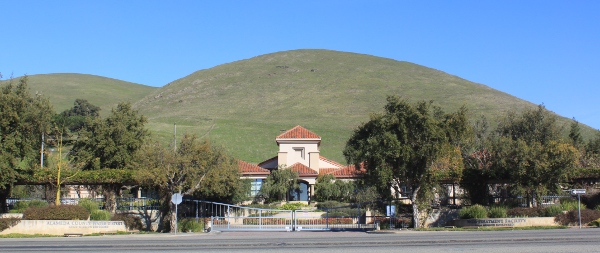 Water Treatment Plant No. 2 is located in Fremont near the intersection of Mission Boulevard and Interstate 680.  The plant has a capacity of 28 million gallons per day and includes a hydroelectric generation facility that generates electricity from the incoming raw water.  After emerging from the hydroelectric facility, raw water flows through pre-ozonation, flash mix, and hydraulic flocculation.
A view of Water Treatment Plant No. 2 from the east shows more of the plant than is visible from Mission Boulevard.  The tile roof at the left of the photo is the administration building.  In the center of the photo the sedimentation basins can be seen.  The tile roof towards the right of the photo is the solids handling building which contains two filter presses.  To the right of this building,  one of the solids thickening basins is barely visible above the hill.  WTP No. 2 also processes sludge from the Mission San Jose Water Treatment Plant located about a mile up the hill.
The author was responsible for civil site design, yard piping design and participated in other areas of plant design including pump selection, piping layout and equipment layout.  In addition, the author reviewed shop drawings, answered requests for information (RFIs) from the contractor, and performed other construction management tasks.
Thomas Brightbill is a Bay Area civil engineer with experience in water, wastewater, stormwater, and public finance projects.