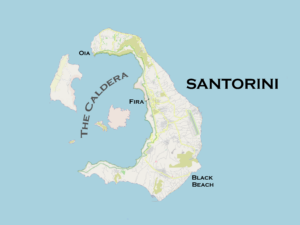 After visiting friends in Thessaloniki for a couple days, we hopped a short flight to the island of Santorini.  We stayed in Fira, a small town on a ridge overlooking the Caldera.
---
Fira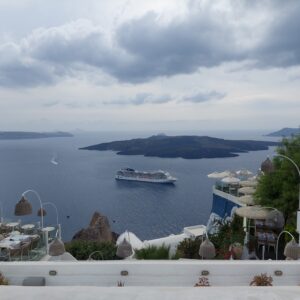 Looking down from Fira at a cruise ship anchored in the Caldera.
---
---
Our first morning in Fira, I got up early and went for a walk through the town before the shops opened and the tourists descended on the town. I heard a clattering of small bells, looked around the corner, and it was one of the mule drivers walking his mules through the village on the way down to the small ferry terminal where the cruise ship passengers are dropped off.
The Black Beach
We drove to the Black Beach.   There were storms headed our way and we were lucky to get a nice day at the beach before the winds kicked up.
Domaine Sigalas and Oia
Our last day on Santorini, we visited the Domaine Sigalas winery and had a nice tasting before heading on to Oia, a village made famous by sunset photos with the whitewashed buildings and blue church domes.  Alas, during our visit it was a little cloudy and hazy so the sunset was not great.  We enjoyed a nice dinner together.
The Ferry
We took the high-speed ferry back to Athens, a little over 5 hours with 3 or 4 stops at other islands.  The high-speed ferry holds over 1,000 passengers who board the ferry by walking up the big ramp to the car deck, leaving bags on the rack labeled for their destination, and then walking upstairs to their assigned seats.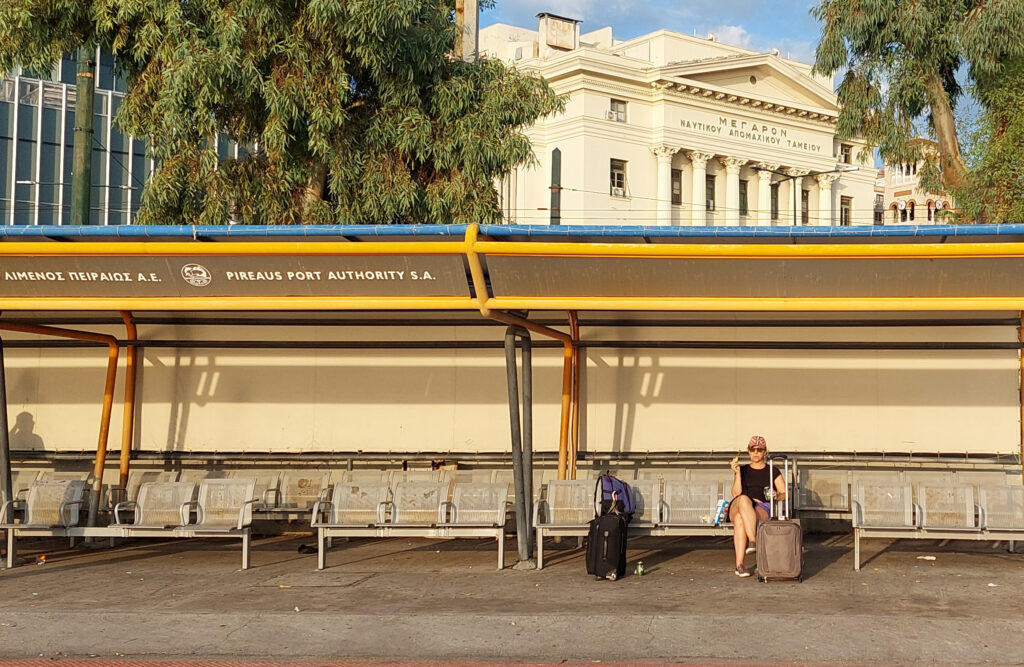 Leslie waiting for the connecting ferry to Hydra at the Athens port.