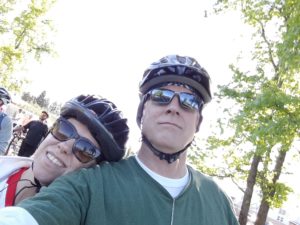 This past Saturday, Leslie and I rode in the annual Cycle for Sight ride up in Napa.  The ride is a benefit for local charities including the Pathway Home and the Enchanted Hills Camp for the Blind.
The Ride
Leslie shows off her Croatian bicycling jersey before the race (notice the hot air balloon in flight above the trees)
Bicycle traffic starts off pretty heavy at the beginning of the ride…
… and quickly thins out as the ride moves out of town and into vineyards and a rural area north of Napa
The first rest stop at the Veterans' Home of California in Yountville.
Ladies cheering on the bicyclists as they leave the Veterans' Home.
From Yountville, the 25-mile ride continues north to Oakville where it crosses the valley and makes a short climb up to the Silverado Trail highway.
The 25-mile ride has a second rest stop at a California Fish and Game office along Silverado Trail.  After that stop, the ride continues mostly downhill along the Silverado Trail highway before turning west to cross back over to the other side of the valley.
Leslie and I usually take an un-official third rest stop in the shade along Oak Knoll Ave overlooking Trefethen Vineyards.  From there, it is short ride back to the finish line and the after party.
Inspirational Jerseys and T-Shirts
Inspirational Service Dogs (and Dogs in Training)
Service dogs are amazing!
Two black labs in the registration area before the start of the ride.
This yellow lab was hanging out at the after party (I think he was still in training)