A quick two-and-a-half day escape to Mendocino – June 2020.
---
Two wonderful breakfasts on the patio at the Good Life Cafe & Bakery – great food and a dog-friendly patio.
The giraffe lives along Highway 128 between Cloverdale and Booneville.
---
Picnic lunch on the way up.  A little of this, a little of that, some homemade sourdough bread, and some Lula Chardonnay.
---
We had hoped to stop at Princess Seafood Market and Deli in Noyo Harbor (Fort Bragg) on Monday evening, but the timing didn't quite work out. We spotted Captain Heather down at the dock on Tuesday at the F/V Princess.
---
F/V Trianna was an impressive and imposing sight at the Noyo Boatworks.  She was launched two days later.
---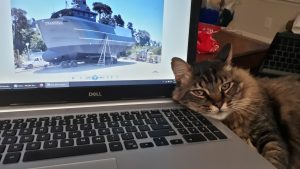 Back at home, Sly was very glad to see everyone again.  Here he is helping edit photos from the trip.